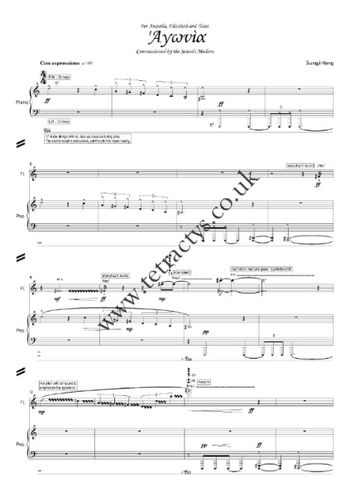 Sungji Hong - Agonia
2019, 10'00
Unfolding over an eight-bar repeated pattern in the pianist's left hand, the piece takes its inspiration from Christ in the Garden, painted by Nikolaus Obilman in 1466 (Warsaw's National Museum in Poland); in projecting this prayer into physical movement, the choreographer writes that she "creates a meditative landscape exploring moments of women's resistance, folding and unfolding brokenness, invisibility, and reawakening."

The music is written for the dance Grounded Orbit in collaboration with choreographer Ilana Morgan. It was performed by dancers Sharon Barnhill and Linda Wallace, pianist Anatolia Ioannides, and flutist Elizabeth McNutt at the Modern Art Museum of Fort Worth in Texas on January 19, 2019.

It was commissioned by the Sounds Modern.
Buy Now