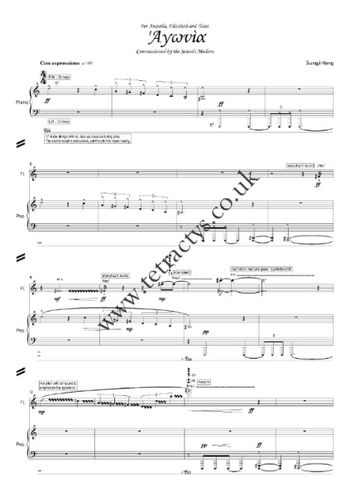 Sungji Hong - Transfiguration
2017, 15'
For alto flute and ensemble with electronics

I.High Mountain
II.As the Sun and as the Light

The inspiration for this piece is based on Icon of the Transfiguration (Tretyakov Gallery, Moscow) by Theophanes the Greek (1340 – c. 1410), a Byzantine Greek artist and one of the greatest icon painters of Muscovite Russia.

Transfiguration lasts about 15 minutes and it is scored for piccolo, oboe, clarinet/Bass clarinet, piano, violin, viola, cello and solo alto flute with electronics. The concerto, in two movements, It was first performed by RCM ensemble, Michael Oliva (electronics) and Carla Rees (alto flute) under direction of Matthew Hardy in Amaryllis Fleming Concert Hall at the Royal College of Music in London on 20 January 2017.


Buy Now